The past week has given us some exceptionally sunny and warm days at Milbanke Sound. And, with the sunny skies and high pressure, we experience heavier than usual North West winds. Our usual fishing spots along the west side of Athlone Island become a little too choppy to fish, particularly in the afternoon. At times like these we are thankful to be at this particular location as we have some options for calm water fishing!
Thompson Bay, to the South East of
our lodge anchorage, is an incredible calm water location to fish during heavier than normal winds. Only 20 minutes away, our boats were prying a seldom fished area with excellent success. Access to this area is dependent on high enough tide water to travel safely through the 'back door' towards Cape Mark. It's simply a beautiful place to fish!
Ivory Island, to the North of our usual fishing areas has been producing and the East side of this island provides excellent fishing, calmer waters albeit a choppy ride back to the lodge.
Most Chinook we have been taking continue to be in the 14-20 pound range. We are starting to see more in the mid 20's and only yesterday a beautiful 32 pound "Tyee" was weighed in. Coho continue to be increasing in both size and abundance. Favourite lures for both continue to be our Irish Cream spoon or a green and white Hoochie trolled behind our custom KPL flashers. Anchovies and Herring are all working well a little deeper, up to 90ft.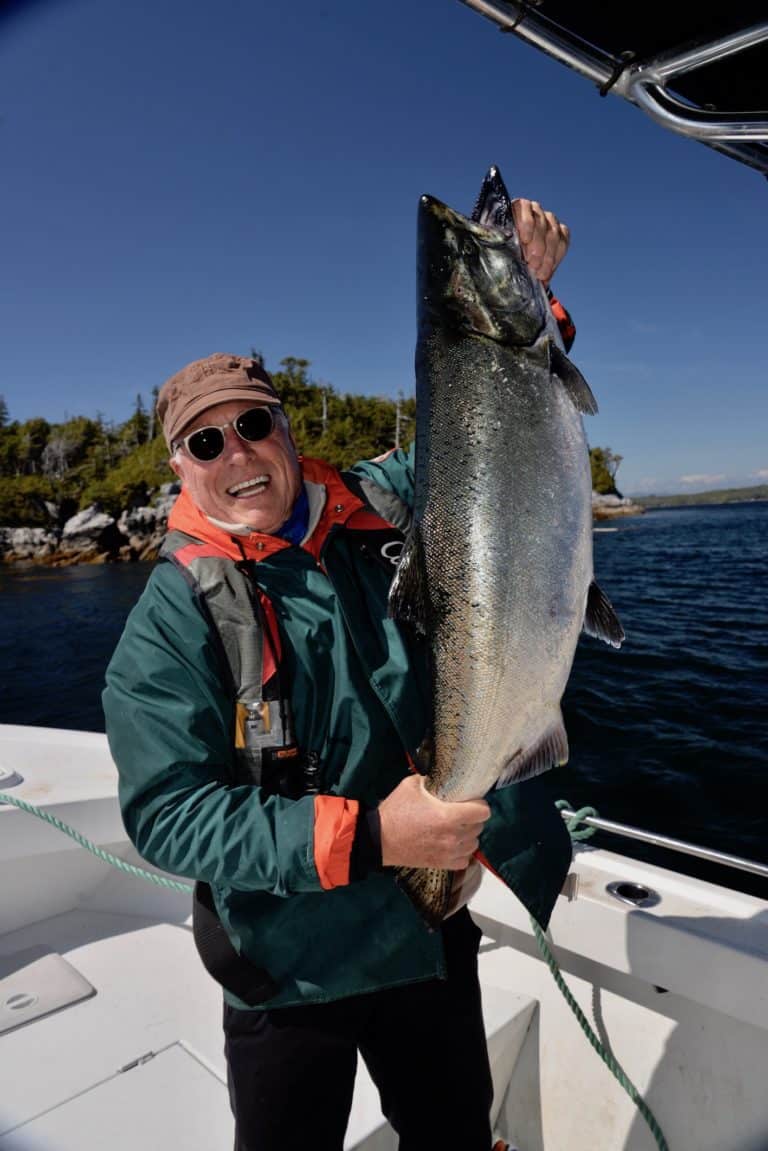 Guests at King Pacific Lodge always seem to enjoy an abundance of wildlife such as whales, porpoise, sea-lions etc. To our delight last week, a local Humpback whale stayed close to our anchorage and provided hours of aerobatic jumping, rolling and tail flopping. Some suggested the whale was feeding and schooling bait, others thought it was trying to rid itself of barnacles. In the end we all decided it was just wanting to have fun!
Should you be looking for information regarding our packages please contact us anytime!
Kindest Regards,
George Cuthbert
george@kingpacificlodge.com
https://kingpacificlodge.com/wp-content/uploads/2018/07/DSC_9627.jpg
1114
2096
George Cuthbert
https://kingpacificlodge.com/wp-content/uploads/2017/02/king-pacific-lodge-logo-300x262.png
George Cuthbert
2018-07-18 19:47:07
2021-04-28 16:14:16
Sunny and…Windy