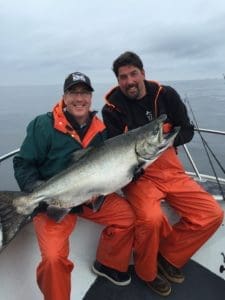 We have now concluded our 2016 King Pacific Lodge season and our floating lodge is now safely tied up in our winter anchorage.
A special Thank You to all of our guests and of course our seasonal staff who make the entire experience possible.
We're so fortunate to have had a successful, safe season for and we appreciate the efforts of everyone to make this happen.
Overall, fishing was very consistent earlier and later in the season and some of our best fishing was during June and late August. June produced excellent catches of Chinook, July a nice mix of smaller Coho and Chinook and the very best part of August seemed during the fourth week and when we experienced the heaviest fish loads of the season.
Anchovy baits were the story of 2016. While the usual herring and flasher & hoochie combinations did work, the anchovy trolled behind flasher was by far the most productive. Gibbs Delta tackle gifted us a selection of their new Skinny G spoons and these also were very productive.
Northwest winds hampered our efforts during late July and August. Fortunately we were still able to fish most of the time at Cheney Point and at times into Louisa Cove. We haven't lost a days fishing yet! During periods of strong westerlies we've also a new fishing location: Thompson Sound. Located just 20 minutes to the South East, Thompson sound provides flat calm fishing waters and the very first fish taken at this location was over forty pounds!
We've recently learned our neighbouring fishing lodge will be no longer operating at Milbanke Sound. This change will provide a much more exclusive and peaceful fishing experience for King Pacific Lodge anglers.
In the coming weeks we'll be communicating with all of our 2016 guests. Our desire is to continually improve our operations and we look forward to learning more about this seasons experience at King Pacific Lodge.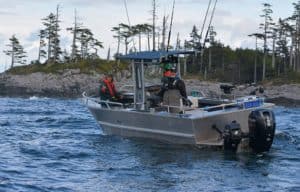 Should you follow TripAdvisor, our page is King Pacific Lodge TripAdvisor
Our 2017 season is filling in nicely and we welcome all new and existing anglers to contact us anytime.
Kindest Regards,
George Cuthbert
george@westsportfishing.com
778 384 3474
https://kingpacificlodge.com/wp-content/uploads/2016/09/KingPacificLodge_01c.jpg
1200
1800
George Cuthbert
https://kingpacificlodge.com/wp-content/uploads/2017/02/king-pacific-lodge-logo-300x262.png
George Cuthbert
2016-09-28 18:41:04
2022-09-16 12:39:01
2016 – An Excellent Season