The Best BC Sport Fishing Experience!
THE FISHING
Make the most of your FISHING experience. Learn more about the amazing options available when planning your fishing trip. Discover what King Pacific Lodge has to offer!
PACKAGE RATES
Here you can view some of our featured PACKAGES. Whether beginner or an advanced angler, we have the package best suited to your skill and ability.
THE LODGE
Learn more about our contemporary, beautiful and conveniently located LODGE, which features the finest in comfort, dining and everything else in between.
There is no other British Columbia fishing lodge which compares to King Pacific Lodge.
King Pacific Lodge at Milbanke Sound is a BC salmon lodge company created as a testament to the friendship of the many anglers, old and new, that George Cuthbert has come to know over the past twenty-five years.
We are a family operated business and our interest in exceeding guests expectations goes beyond a corporate objective. As owners, we're on site, engaged and are sincerely committed to our guests experience.
Your time and money is valuable and we respect both! If you've been searching for the absolute best Chinook and Coho salmon fishing trip, in the most spectacular setting and with the highest degree of personalized service…
Choose King Pacific Lodge – Milbanke Sound.
Thanks for visiting our website. We look forward to speaking with you soon!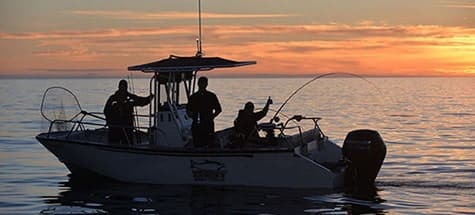 Fishing at King Pacific Lodge